---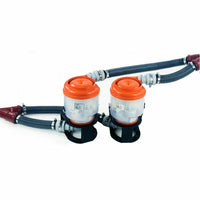 Sale
Amalgam Separator Installation Kit features a higher flow rate to support up to 20 operatories, offering adaptors that accommodate 1.5" and 2" connections. This advanced amalgam separator requires no maintenance, offers simple, quick installation and is compatible with dry and wet vacs. Combination body design offers pass-through technology while capturing amalgam at a 99% efficiency rate. ECOII+ can be installed on the wall or floor using the foundation bracket, ensuring easy access for office staff to check the fill line and utilize space efficiently.   Manufactured by Metasys.
Features include:
Easy installation, multiple components to accommodate large hose connections.
Engineered to ensure no loss of suction, works with all vacuum systems.
Free access to portal for online tracking of compliance documents, iPhone & Android documentation capabilities allows your office to be environmentally friendly. 
Visible fill line located on canister meets EPA's filing requirements.
Specifications:
ISO 11143 certified (99% filtration efficiency).
Pre-vacuum installation: for up to 20 chairs.
Compact design: 8.7" x 8.7" x 13.8", offers simple pass-through technology.
Per EPA mandate, replace every 12 months to receive the Certificate of Recycling available online 24/7via online portal.
SKU: 51003