---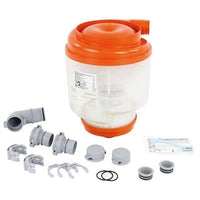 Sale
PureWay Eco II+ Replacement KitIncludes recycling kit for easy exchange and return of the filled container.  Recycling Kit contents include prepaid return shipping label, free UPS pickup within one business day, logbook guide meets EPA's requirements. This advanced amalgam separator offers simple quick and mess-free exchange. Mfg. 51004 Replacement Canister kit, to be used with ECO II+ and Legacy ECO II systems
Features include:
New canister helps eliminate odor and scum buildup.
Free access to compliance portal for online tracking, iPhone & Android documentation capabilities allows your office to be environmentally friendly.  
Visible fill line located on canister meets EPA's filing requirements.
Specifications:
ISO 11143 certified (99% filtration efficiency).
Pre-vacuum installation accommodates 1 to 20 chairs.
Compact design: 8.7" x 8.7" x 13.8", offers simple pass-through technology.
Works with wet and dry vacuum systems.
Per EPA mandate, replace canister every 12 months to receive the Certificate of Recycling, available online 24/7via online portal.
SKU: 51004